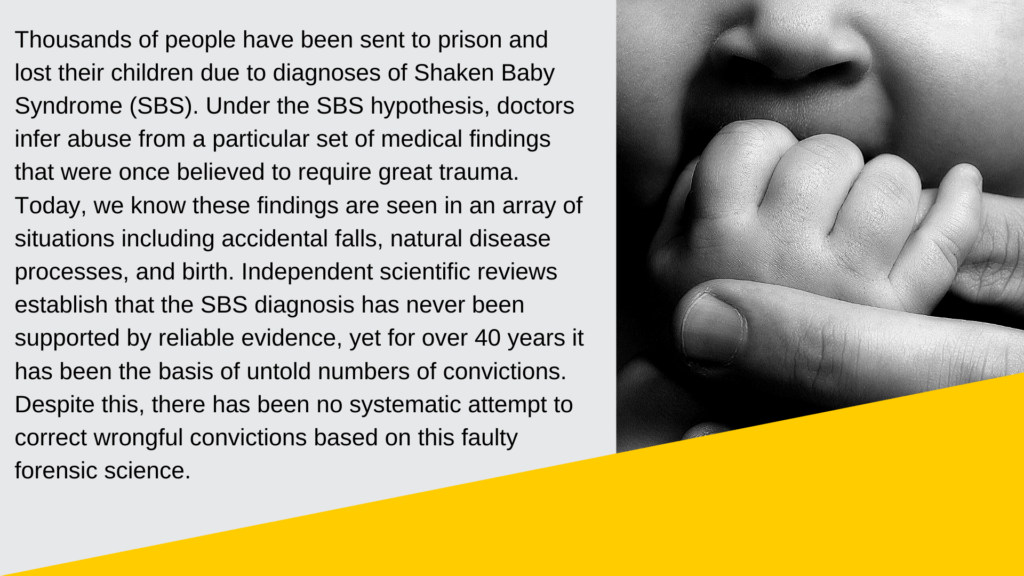 Through the SBS project, NCIP seeks to identify, review and correct wrongful convictions in California based on SBS misdiagnoses. NCIP has identified nearly 600 California SBS cases through appellate record searches, internal database searches, publicly available SBS database searches, and media database searches.
Collecting and analyzing SBS data will help inform case strategy and spur potential policy reforms which will have the ability to impact the most people with the greatest need. In addition, the systemic issues leading to racial disparities in the criminal legal system are exacerbated in the child abuse realm, where doctors and social workers are taught that race and income are risk factors for abuse.
NCIP believes the data will provide concrete proof that young people of color are disproportionately prosecuted and convicted based on an SBS theory. Based on the data and case outcomes, NCIP will author and publish a report with findings. The SBS casework and report will raise awareness of the unreliability of the diagnosis and decrease the role SBS diagnoses play in criminal convictions around the country.
In addition to identifying cases for litigation, NCIP is also tracking information about each of these cases, including:
race of the defendant
age
gender
marital status
treating hospital(s) name
prosecutor(s) name
crime(s) charged
plea
crime(s) convicted
sentence
defense theory
defense evidence presented
prosecution bases
defense expert names(s)
prosecution expert name(s)
medical findings relied on by the prosecution